Thu 27 Jan 2011
Make that 7. =)
1. Good God I'm sick of dieting.
2. I've been quilting a lot lately, I made this for a friend of mine,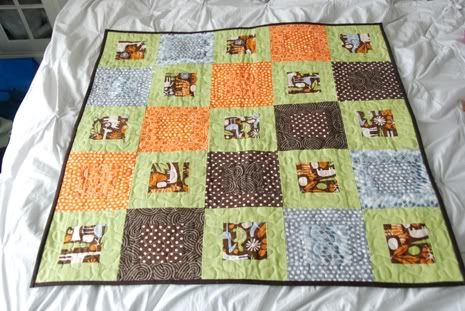 Which is this pattern over here. I love her patterns, they're so straight forward and easy to follow.
3. I've also been on an embroidery kick, I'm following Little Miss Shabby's Birdie block of the month…
I have a thing for birds, and hot pink. =)
4. I'm a** deep in fabric right now. =) I was going to do this zig zag quilt with some adorable 12 days of Christmas fabric (I guess I should link that too, hang on.) Well, i have no idea where to point you to since most places are selling out of it =). How about the flickr group? Anyway, I bought 3 charm packs, which is 120ish 5×5 squares, and somehow ended up buying another one too. So I broke that into three quilts when the zig zags just didn't look so hot to me anymore. I'll post those when I finish them, hopefully by next Christmas. =) and then I have all the fabric for the block of the month and enough to make another quilt out of that Alexander Henry fabric… lots of fabric.
5. It has been insanely gloomy here lately. Today it's sunny and 50. WONDERFUL for lifting my spirits.
6. Kate's language has exploded lately. She went from hardly saying anything, to suddenly saying everything. I have some video of her, I need to upload it. She says goofball and thank you, very cute. =)
7. I still have zero desire to have another baby. Even with several of my friends having babies. =) I daresay we're done. =)
3 Responses to "10 on Thursday"
Candi Says:
January 28th, 2011 at 2:34 am

Your craftiness never ceases to amaze me Very cute!
We need to get the girls together very soon. Wes will be on outage in March which means those long shifts again. Maybe a Sunday then?
Um I am a bad friend, but I still got to pay you for the Gossie books…I promise I haven't forgotten!

Monica Says:
January 28th, 2011 at 4:31 am

Love the quilts. Mom is quite impressed too! She loves to quilt. She's a** deep in fabric here at my house, she bought SEVERAL charms packs from her now fav place Fabric.com.

Colleen Says:
January 28th, 2011 at 2:14 pm

Has she checked out Fabric Worm and Fat Quarter Shop? Sheesh. Especially Fabric Worm. I'm in love with the Monaluna fabric they carry. And Pink Chalk Fabrics, too. They have cute stuff. And Spoonflower!! Holy moly. Such a cool idea.

Candi, you're not a bad friend. We'll even up one of these days. =) And yes, we must get the girls together. First weekend in March that you're free, let's shoot for that. Sundays are good for us.